The name of the child, the date of birth, the hour of birth, the heigth and weight at birth date are the most important informations for the baby's family. A 100% organic cotton, natural and soft in touch blanket is the most important thing for a baby during sleep. My Blanket is a fusion of the unique data of the child with the naturalness of cotton. We produce it on individual request, and reccomend it for new born babies, as they come to the world.
The blanket is 75 cm wide and 100 cm long.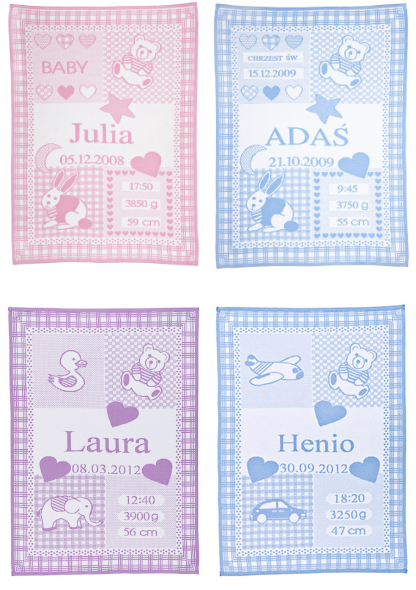 On the blanket we put the name of the child. The name can be in diminutive, it can have all the letters capital or hand-written. Decide, which figures of the child's birth are most important for You. If You or your family do not know the exact hour of birth, you can skip this. Making a present, You decide what has to be put on the blanket.
My Blanket is a practical gift for the new born baby and it's family. Mum wraps up her baby with it during feeding-time and nursing. It turns out handy for the walk, and the nap at home. After years the blanket will be a keepsake of the best moments in maternity. A unique and original idea as a present for the new born child on the occasion of his first birthday, or the first visit at the young parent's house. In the box there is a decorative card similar to a postcard, on which you can personally handwrite your best wishes before giving the present.
PERSONALISED BABY BLANKETS whit name, date of birth, weight and length